IS UC-II® A BETTER DOG SUPPLEMENT THAN CHONDROITIN AND GLUCOSAMINE ?
Posted By Jérémy ADJOVI-BOCO, 06 August 2023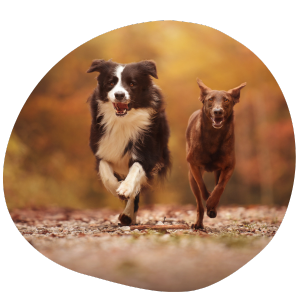 Hi, Jope's squad! 
Many dogs in the USA suffer from mobility impairment. One of the biggest reasons behind this is osteoarthritis, which affects more than one out of 5 dogs in the USA. However, osteoarthritis is not the only condition affecting dog mobility.
When our best friend's mobility is affected, their whole life and ours changes. Dogs love to run, play endlessly and go for long walks, but mobility impairment makes them unable to do all these. It can even lead to simple daily tasks, such as getting up in the morning or going up and downstairs, being a real challenge.
But be reassured, simple solutions exist to help your dog fight these painful conditions! If you are not already doing it, the first and simplest to consider is adding natural hip and joint supplements to their diet.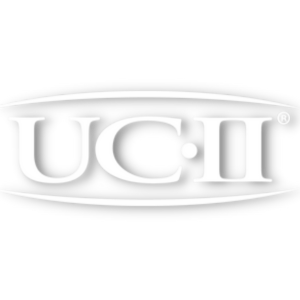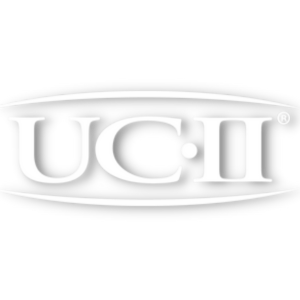 Key facts about UC-II®
UC-II® = Undenatured Type II Collagen
Learn more
What is UC-II® and how does it relieve pain and inflammation ?
UC-II® is a patented undenatured type II collagen made in the USA by Lonza, a specialized human and animal health company. UC-II® comes from chicken sternum cartilage.
Did you know that animals and humans have several types of collagen? We categorize the main ones as type I, type II, and type III. Type II collagen is primarily present in the joint cartilage and makes up most of its composition. In combination with proteoglycan gel, type II collagen provides mechanical strength, gliding, and cushioning properties to the joints.
The undenatured type II collagen is so effective because it undergoes minimal processing when extracted. Indeed the only treatments are to optimize concentration and make it soluble. In addition, undenatured type II collagen keeps the same 3D structure as it does in animals and humans. Therefore the body can recognize it and adequately react to it to stop the inflammation.
On the contrary, type II collagen treated by heat or hydrolyzed (found in some other supplements) will lose its specific 3D structure; it is called denatured type II collagen and no longer resembles that in the body of your dog.
What are the benefits of UC-II® in dogs ?
A few years ago, a new and innovative supplement came out in human medicine. This supplement, called UC-II®, is mainly used in sports medicine and against osteoarthritis. However, all individuals can benefit from UC-II® as it allows healthy joints to move freely and without discomfort.
Not only is UC-II® a natural and patented undenatured type II collagen, but it is also made in the USA.
When using supplements containing UC-II®, you will notice an improvement in your pup's mobility, as the pain decreases, after a few weeks. As you continue to give UC-II® to your dog, you will see them feeling better and more active.
Did you ever stop and wonder why your dog was less active, seemed stiff, lame, or played less? Well, these changes in your pup's activity and mobility are due to pain caused by osteoarthritis. Like humans, OA leads to chronic, daily pain and can be debilitating, especially during acute crises.
UC-II® aids in reducing pain and inflammation, and as a result, it supports joints and connective tissue to improve flexibility and mobility for adult and senior dogs. In addition, it helps support your dogs' ability to run, walk and jump, giving you visible results in just a few weeks.
UC-II®'s main benefit is to significally relieve pain in dogs with osteoarthritis.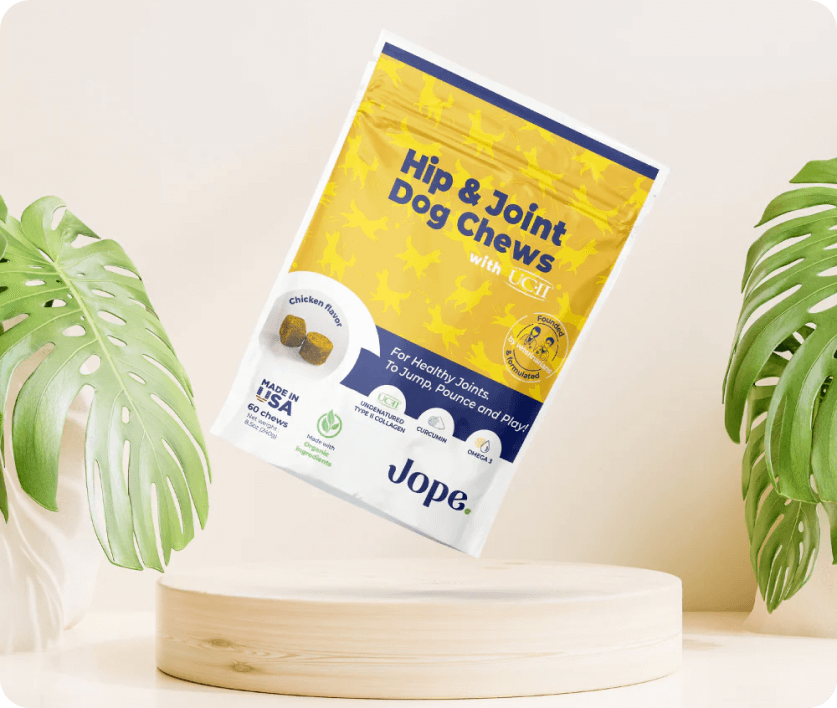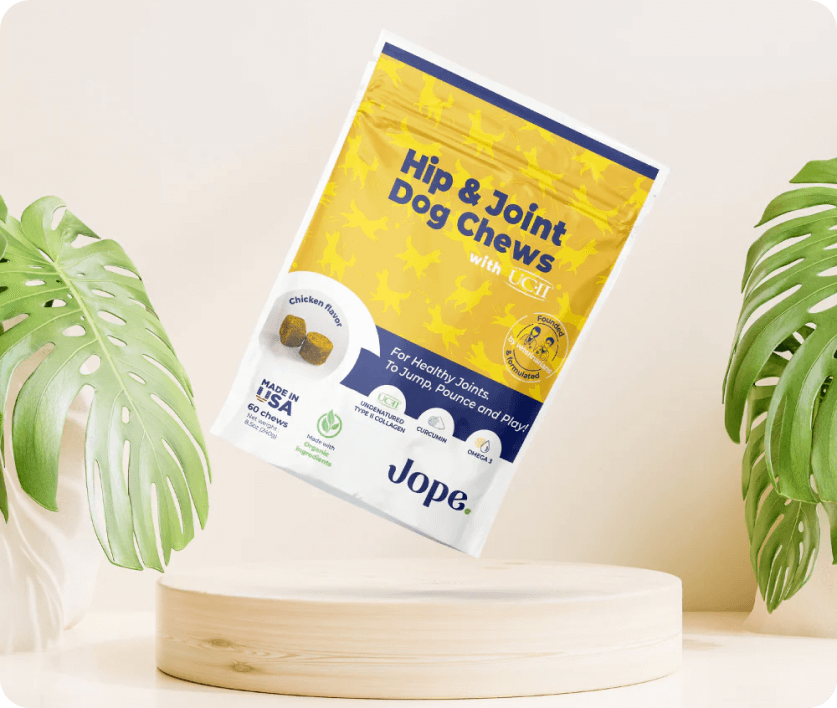 Joint Supplements Making a True Difference
From $39.53
Try Now
Is UC-II® scientifically proven in dogs?
Often we assume that mobility impairment is due to old age. However, in reality, joint disease cause a decrease in your dog's activity levels and mobility, not age. In addition, there are multiple causes of joint disease. But they all have in common to lead to inflammation: torn ligaments, fractures ( broken bone), hip dysplasia, elbow dysplasia and osteoarthritis.
More than 18 studies have shown that oral administration of type II collagen reduces osteoarthritis's clinical signs, including seven done on dogs. One particular study reviewed all 18 studies and concluded, "in the current literature, UC-II® has been suggested as a safe and effective supplement for joint health both for humans and animals."
And here is a fun fact for all the horse lovers, UC-II® has also demonstrated benefits in horses.
Is UC-II® more effective than chondroitin and glucosamine in dogs?
Among these 18 studies, one is especially remarkable. The 2012 study, a real-life study in over 35 dogs, compared UC-II®, a placebo or chondroitin associated with glucosamine.
The researchers used an objective way to measure any improvement in a dog with osteoarthritis: ground force plate.
This instrument measures the pressure a dog applies to the ground using his four limbs (called vertical peak force) when running. They calculated the pressure for each dog with the different treatments to compare. When done by experts, this method is the gold standard to assess evolution under treatments objectively.
The result of this study was clear: the group of dogs under UC-II® had a significant increase in peak vertical force, an indicator of a decrease in arthritis-associated pain. And the first benefits of UC-II® were shown as soon as 15 days after the initial intake.
On the contrary, none of the dogs taking chondroitin & glucosamine or placebo showed improvement even after 150 days.
From studies made in humans and dogs, UC-II® showed to be more effective than the most frequently used association of glucosamine and chondroitin sulfate.
 Ground force plate used in a dog at PennVet, University of Pennsylvania.
How does UC-II® work on pain and inflammation in dogs?
When your dog takes UC-II® in a chew, the undenatured type II collagen is released in the intestines and recognized by a specific structure within. This structure is called Peyer's patches, and they allow UC-II to enter the body and bind to specific cells of the immune system. This interaction between UC-II and the cells deactivates the immune reactions that cause inflammation and pain: this is the phenomenon of oral tolerance.
So not only does UC-II® provide cartilage components to the body, its natural, undenatured 3D structure prevents the immune system from attacking the articular cartilage of your dog's body.
UC-II® mode of action in dogs: a four-step process. 
Undenatured type II collagen arrives in the small intestine and crosses the intestinal wall through Peyer's patches.

Regulatory cells of the immune system (antigenic-presenting cells) recognize undenatured type II collagen and activate a particular subclass of regulatory cells called T-cells.

Then a cascade of deactivation occurs: Regulatory T-cells deactivate B-cells and Cytotoxic T-cells (other subclasses of regulatory cells).

The result of this cascade is an interruption in the production of pro-inflammatory mediators ( micro molecules responsible for the inflammation). 

Which supplements with UC-II® should I choose for my dog's joints?
It is important to choose supplements specifically designed for dogs when caring for your furry friends, as supplements not tailored to their specific needs and physiology can be harmful and ineffective.
UC-II® is a relatively new molecule in veterinary medicine, and there are currently only a few options on the market. The most popular brands are Jope Hip & Joint Dog Chews from Jope and Flexadin Advanced from Vetoquinol.
Let's compare them.
1. Active ingredients and efficacy
When considering which supplement to choose, assessing the active ingredients and their efficacy is essential. Both Jope and Flexadin contain the patented undenatured type II collagen UC-II®.
In addition to UC-II®, Jope's hip and joint supplement also contain a high dose of Omega-3 from fish oil, with a high amount of EPA and DHA (98 mg per chew). EPA and DHA are two types of essential fatty acids found in certain types of oils, including fish oil.
These fatty acids are necessary for the health of the brain, heart, and immune system. They have been shown to be particularly effective at reducing inflammation and relieving the symptoms of arthritis in dogs. Therefore, veterinarians often recommend them as a supplement for dogs with joint issues. However, Flexadin contains only 11 mg of EPA and DHA per serving.
Finally, Jope's formula includes curcumin, a natural ingredient with anti-inflammatory and antioxidant properties, in a dose of 50 mg per chew. In comparison, Flexadin does not contain curcumin.
It's important to consider the specific ingredients and their dosages when choosing a supplement for your furry friend. This difference in ingredients and dosage may affect the overall effectiveness of the supplements in relieving joint pain and improving mobility in dogs.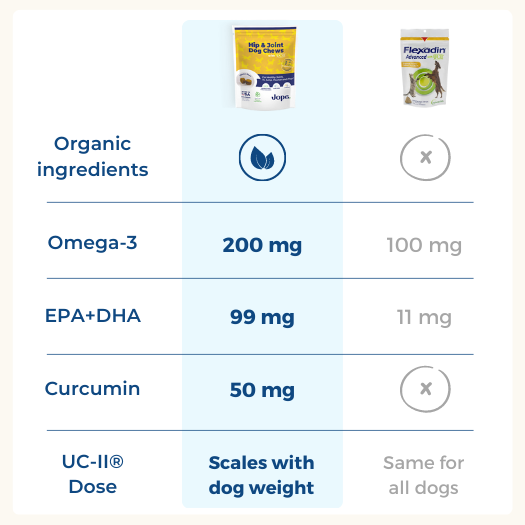 2. Formula and healthiness
Another factor to consider is the overall healthiness of the formula. When selecting a supplement for your beloved pet, consider not just the ingredients and dosage that may be most effective in relieving joint pain and improving mobility but also the overall healthiness of the formula.
Look for formulas that use:
high-quality ingredients,
natural ingredients,
and consider the sourcing and production methods' environmental impact.
While Flexadin contains 21 non-organic inactive ingredients and fillers, Jope's formula contains only nine inactive ingredients, most of which are organic.
Jope's Omega-3 is also sustainably sourced from anchovy fish oil, and the chews are made with a cold-press process that preserves the benefits of the raw ingredients.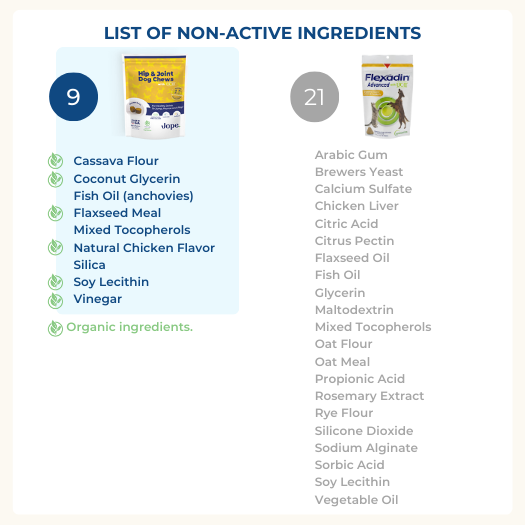 Regarding ease of use, both brands offer yummy chicken-flavored chews, which are known to be easier for dogs to take.
Flexadin is also very simple, as it's one chew per dog for every weight. But as a result, it doesn't tailor the dosage of supplements to the specific needs of each dog.
Tailored dosing is crucial when it comes to joint supplements, as the needs of a small breed dog like a Chihuahua (around 4 lbs) can be very different from those of a large breed dog like a Great Dane (around 150 lbs). By taking into account the weight and specific needs of each dog, it's possible to ensure that they receive the optimal dosage of the most effective ingredients for relieving joint pain and improving mobility.
Jope's dosage is based on the dog's weight and starts at $0.6 per day. Flexadin's price is set at $0.9 per day. The price for a 60-count pack of Jope is $60, but it can be found for as low as $36 per pack when bought in bulk. A 60-count pack of Flexadin can be found for around $53 on Chewy.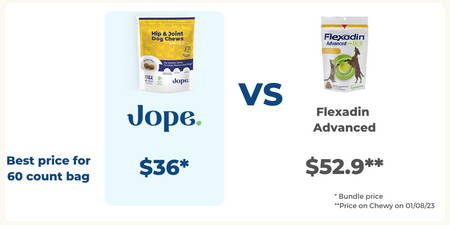 UC-II®: a human-graded dog supplement against osteoarthritis
UC-II® is well established in human medicine. And the mechanism of action for humans and pets is similar. Therefore, to illustrate how UC-II can help your dog, we will do a detailed review of human studies comparing the effects of UC-II® to those of the association chondroitin and glucosamine. These studies highlight UC-II® as having better results on pain for osteoarthritic patients.
1. Studies that show UC-II®'s superiority compared to chondroitin and glucosamine in people with osteoarthritis
In this double-blinded and placebo-controlled study, a total of 191 middle-aged men and women with clinically validated moderate-to-severe osteoarthritis participated. Scientists randomly assigned them to one of three groups who each received the following supplement for 180 days:
UC-II®, undenatured type II collagen at a dosage of 40 mg,

GC: chondroitin (1500 mg) + glucosamine (1200 mg),

Or placebo.
They used the WOMAC score (pain score) to track improvements. They also used LFI and VAS scores to fine-tune the results.
And the results were precise: among people who completed the study (164), UC-II® significantly reduced the total WOMAC score compared to placebo and the chondroitin and glucosamine combo. This decrease in WOMAC score means reduced joint discomfort and improved flexibility without pain and physical function.
Furthermore, there was no significant difference between chondroitin+glucosamin and placebo results when using either of the three scales.


UC-II® undenatured type II collagen is more effective
than glucosamine + chondroitin in adults.
In a study, a total of 52 adults of a 59-year-old average with validated moderate knee osteoarthritis enrolled. They were then randomly given to one of the two following daily supplements for 90 days :
UC-II®, undenatured type II collagen at a dosage of 40 mg,

GC: chondroitin (1500 mg) + glucosamine (1200 mg).
In this study also, scientists used the WOMAC, LFI, and VAS scores to track improvements.
After 90 days, all three scores significantly improved with UC-II®. The results for Chondroitin and Glucosamine were deceiving:
WOMAC decreased by 33% with UC-II® and only 14% with G+C
VAS decreased by 40% with UC-II® and only 15% with G+C
LFI function score decreased by 20% with UC-II® and 6% only with G+C
Furthermore, these results are so astonishing because, for UC-II®, they are "statistically significant." Meaning that the researchers' results are unlikely the result of chance, and a scientific relationship exists between the variables studied. UC-II®'s benefits are once again scientifically proven to reduce pain.
In contrast, there are no significant results (e.g., not scientifically proven) for chondroitin and glucosamine.

"UC-II® undenatured type II collagen is well tolerated
and more effective than chondroitin + glucosamine in people
with moderate-to-severe knee osteoarthritis"

2. Chondroitin and glucosamine fail to demonstrate improvement in people with osteoarthritis
A 2017 independent study enrolled 164 patients with knee osteoarthritis. Scientists made this study to assess the efficacy of chondroitin and glucosamine in reducing osteoarthritis symptoms.
They also used the WOMAC score - Note: the lower the score, the better you feel and healthier you are.
The study showed that taking a placebo (which contains no active ingredients by definition) gave better results than taking the combination of chondroitin and glucosamine.
More surprisingly, after six months of taking a placebo, patients improved by 33% (this is the (well-known placebo effect) Ironically, chondroitin and glucosamine only improved by 18%.
3. UC-II® for humans in the media
If you follow the news, especially the new health trends, you are probably familiar with UC-II®, as it's been a recurrent favorite in the innovative supplements category.
And UC-II® is unlikely to lose its place in the spotlight! This clear media emphasis on UC-II® is another sign that it's popularity is only growing. It will probably shortly surpass the combo chondroitin and glucosamine because of its proven effects on joint health and patient wellbeing.
| | | |
| --- | --- | --- |
| |   | |
| More and more people, from millennials to baby boomers, use UC-II® according to Nutrition Insight | The nutraceutical world reminds us that thanks to its 3D structure, UC-II® stimulates natural body repair mechanisms. | Wholefood magazine tackles the technical mechanism of action of UC-II® |
4. UC-II® mode of action video
Can glucosamine for dogs really help treat arthritis and joint pain?
As a caring pet parent to your dog, who wants to make sure you give them the most effective supplements, you might be interested in learning more about the popular glucosamine and chondroitin association.
Indeed there are many debates in the veterinary world about the benefits of chondroitin and glucosamine supplements for dogs. More alarming are the many articles that underline the lack of efficacy of these two molecules. The veterinary community is also contesting other pet supplements like MSM(Methylsulfonylmethane).
In an interesting overview study (Litterature Review), a team of biochemists with expertise in supplements analyzed over 15 studies. These studies focus on the benefits of chondroitin and glucosamine in dogs with osteoarthritis.
We complied here the five key findings of these expert biochemists:
Unlike the UC-II® studies, only a few used the ground force plates to measure results (reminder: this gives objective results). When used they did not show any improvements in dogs with osteoarthritis.

A study concluded: "Although glucosamine and chondroitin have benign adverse effect profiles, the clinical benefit of using these agents remains questionable."

Some studies concluded that there were positive results on criteria judged to be of no clinical importance. It means they show no benefits to dogs' well-being, which wouldn't help dogs improve.

All studies lacked standardized protocols, and "trials generally lacked peer review and were at risk of funding bias due to company sponsorship."

Nearly 50% of the studies concluded: no improvement using chondroitin and glucosamine.
The key takeaway of this overview study of glucosamine and chondroitin is
that they lack proven benefits in
relieving pain and inflammation in arthritic humans and dogs.
Conclusion about UC-II in dogs
At Jope, we look for the most effective ingredients to improve dogs' wellness. When it comes to mobility, the star supplement is without a doubt UC-II®. Indeed UC-II® has many studies to show its benefits in healthy and arthritic dogs. Also, its popularity in human medicine is another reason to choose UC-II® versus the association chondroitin and glucosamine.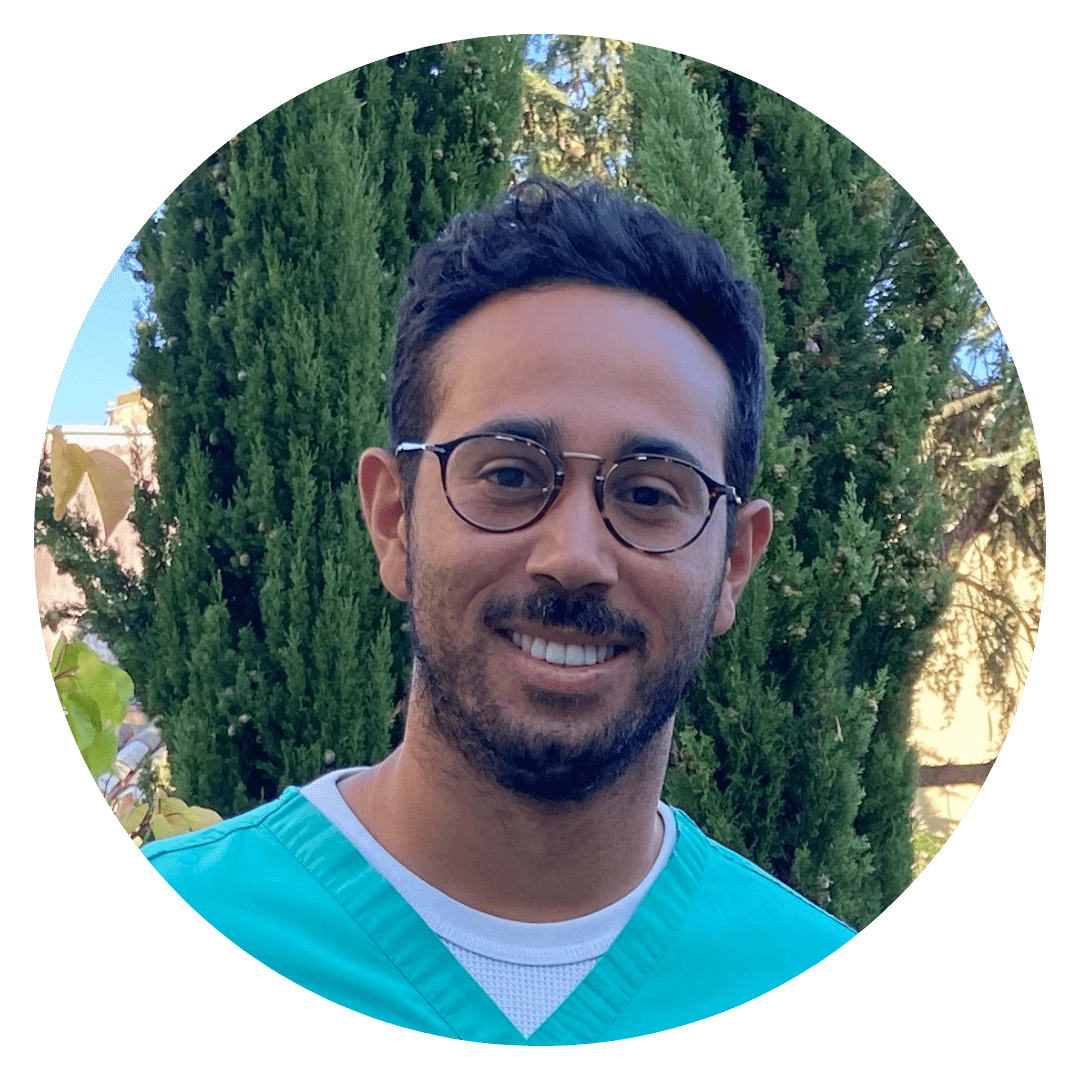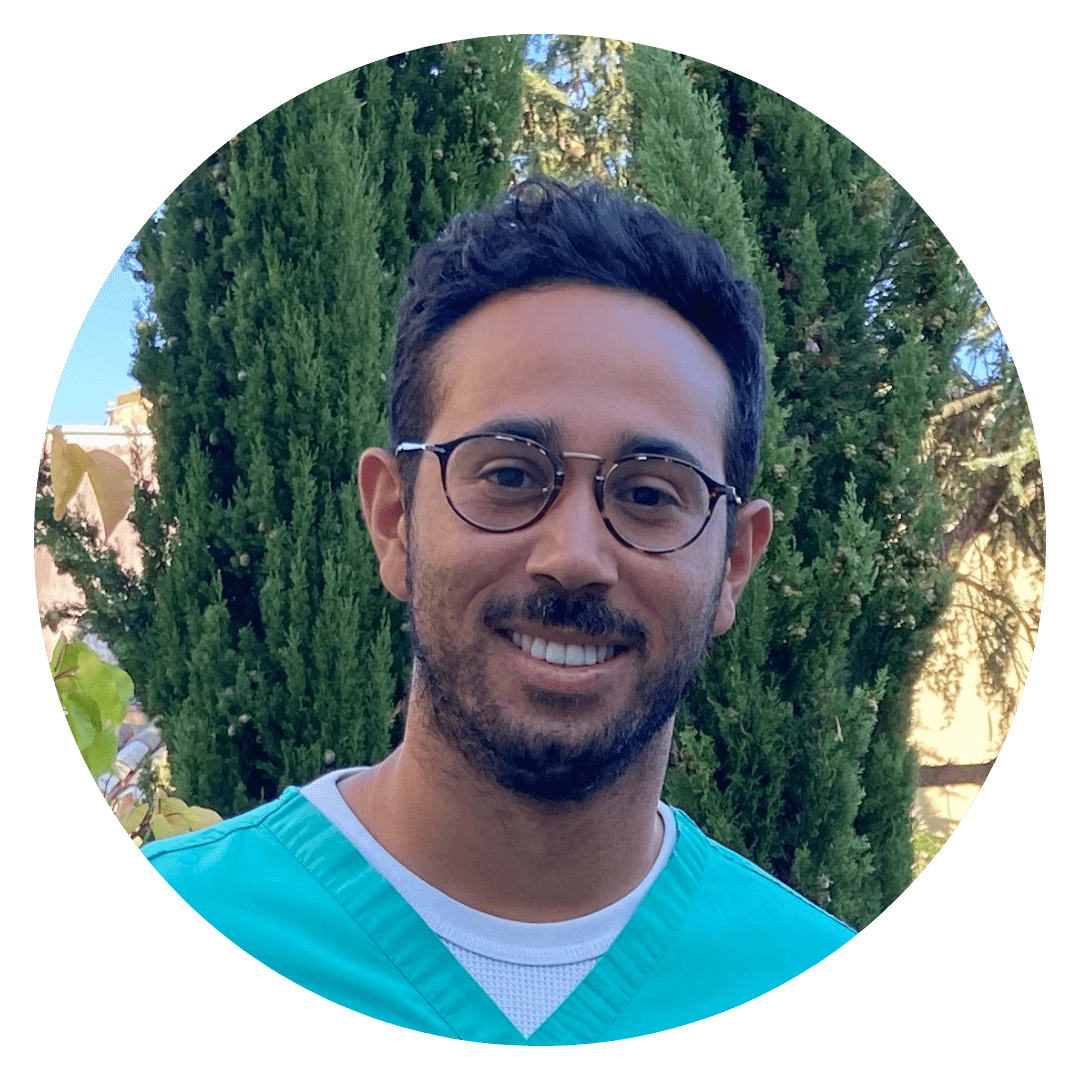 Author: Dr. Jeremy
Doctor of Veterinary Medicine (DVM), MS